Roll over image to zoom in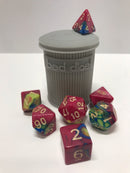 Description
Trash Can Dice Jail: 3d Printed Grey Trash Can for Bad Dice
- A plastic trash can for dice that have failed you during battle. 
- Comes with a lid, so you don't have to look at those dastardly dice! 
- Height: 60mm, Opening: 40mm
*dice not included
- This dice jail is 3d printed in Godfry, Illinois. The 3d printer goes by the name StarcrusherDesigns and can be found on etsy here. I look forward to teaming up with him on many projects to come. 
Payment & Security
Your payment information is processed securely. We do not store credit card details nor have access to your credit card information.