Roll over image to zoom in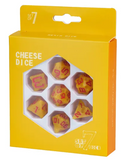 Description
Cheese Dice | Funny Yellow 7-Dice Set for DnD
Introducing the "Yellow Resin Cheese Dice Set" – the perfect gaming accessory for those looking for a touch of whimsy and uniqueness! 🎲🧀
These meticulously crafted dice are made from high-quality plastic resin, guaranteeing durability and a realistic cheese-like appearance that will surely stand out on any game table. The vibrant yellow color is complemented by bold red numbers, ensuring easy readability even in low-light environments.
The "Yellow Resin Cheese Dice Set" is designed for both beginners and experienced gamers alike. Whether you're engaged in epic battles or engaging in strategic card games, these dice will enhance your gaming experience with their delightful cheese-inspired design.
Please note that despite their true-to-life resemblance, these dice are not made of actual cheese. Crafted from safe and non-edible materials, they're perfect for those with a fondness for cheese but without the mess or calories!
Searching for a gift for your board game enthusiast friend? Look no further! The "Yellow Resin Cheese Dice Set" makes for a unique and charming present. It's bound to bring a smile to their face and add a touch of whimsy to their gaming collection.
If you're the kind of person who appreciates the visual appeal and artistic details of gaming accessories, then these dice are a must-have addition to your collection. They're sure to spark curiosity and discussion among fellow gamers, making your game nights even more memorable.
Upgrade your gaming experience with the "Yellow Resin Cheese Dice Set" today and add a touch of whimsical flair to your tabletop adventures. Get ready to roll in style and enjoy the game in a whole new and delightful way! 🧀🎲
Payment & Security
Your payment information is processed securely. We do not store credit card details nor have access to your credit card information.